Use our dashcam and MDVR video devices to ensure the safe operation of your vehicles and trucks
Introducing our advanced dashcam with a range of impressive features. With its capability to record hard driving events such as braking and speeding, as well as capturing video while your vehicle is in motion, our J2 dashcam ensures you have a comprehensive record of your journeys.
 Live video also comes standard so you can see what is going on with your vehicles.
Additionally, the J2 comes equipped with built-in GPS tracking, allowing you to effortlessly track the location of your vehicle through our user-friendly platform and mobile app.
Installation is a breeze, and this versatile dashcam is compatible with all vehicle types, from passenger vehicles to large trucks.
H1 MDVR Advanced Video Telematics
Our H1 MDVR solution is ideal for larger trucks that require more than 2 cameras. With the ability to configure between 3 to 8 cameras, depending on your specific needs, the H1 MDVR delivers exceptional versatility.
Record harsh driving events (acceleration, braking, speeding, etc.) which can be automatically uploaded to the server so you have a record of the danderous driving behavior.
The MDVR also records video any time the truck is moving. You can then retrieve the video for any day and time (subject to SD card size) either on our platform (no need to remove the SD card), or on the display monitor itself.
A 7 inch monitor is mounted on the dashboard to help your driver see any blind spots, help change lanes, and help while reversing the truck.
The rugged case is constructed using durable materials and is equipped with a lock and key, ensuring the safety and security of the sim card and SD card.
Built-in GPS tracking allows for precise location monitoring, while the H1 MDVR records both hard driving events and regular driving video. Stay connected and informed with our live video feature, offering real-time visibility into the activities of your trucks.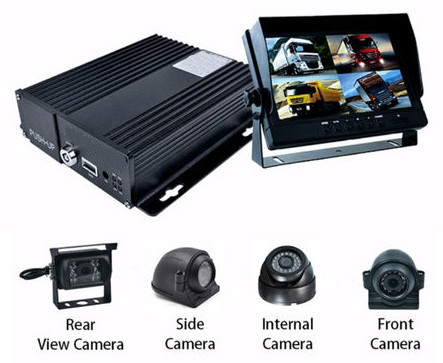 Passenger vehicles and small trucks
Light and heavy duty vehicles/trucks
Common camera configurations
1 camera: Traffic
2 cameras: Traffic, Cabin
2 cameras: Traffic, Rear
3 cameras: Traffic, Cabin, Rear
4 cameras: Traffic, Cabin, Rear, Right
5 cameras: Traffic, Cabin, Rear, Left, Right
Traffic = camera mounted inside and facing traffic
Cabin = camera mounted inside and facing driver's area
Rear = camera mounted outside and facing rear of vehicle
Left/Right = cameras mounted outside on either side of vehicle
Traffic = camera mounted inside and facing traffic
Cabin = camera mounted inside and facing driver's area
Rear = camera mounted outside and facing rear of vehicle
Left/Right = cameras mounted outside on either side of vehicle
Hardsh driving (braking, acceleration)
Waterproof cameras available
Lock and key for SD card/SIM compartment
Dashboard mounted monitor
FOR PRICE QUOTE CLICK HERE
FOR PRICE QUOTE CLICK HERE